An actor's life story through his parents' Eyes
Written By Rosey Thomas Palmer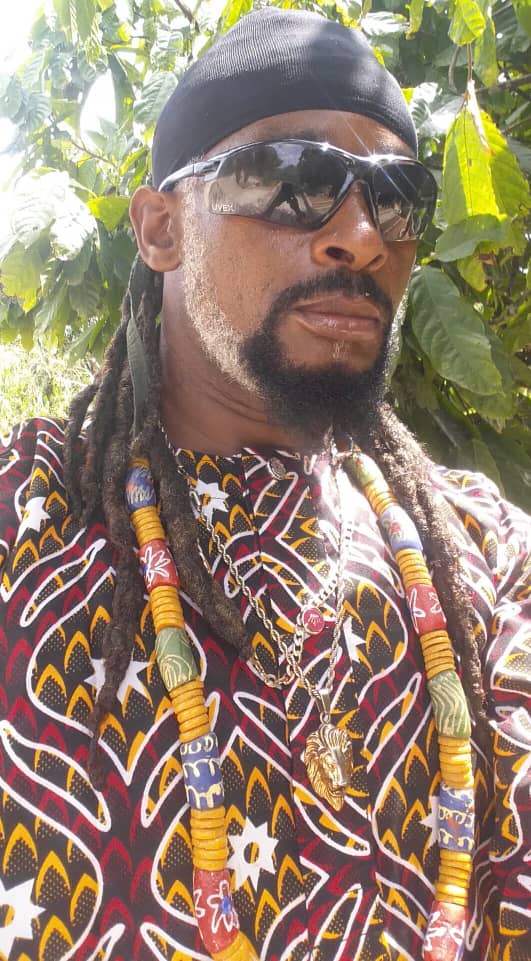 Kofi was baptised Nevill and registered in his father's name of Stephenson on the rugged hillside that mounts steeply from Savanna-la-mar, a coastal market town at the western point of Jamaica. His parents' small holding of freedom fields nestled between the sugar estates of Caledonia and Darliston. They were perched on the rocky hillside, above Aboakuta where ambassadors from Nigeria had once come to oversee the horrors of slavery on the nearby Frome Estate. The child's parents were tough, hardworking and resourceful. At the dawn of nationhood, their energies were focused on feeding their family.
"We reach whe we a go and de yam reach same way dung inna di dirt," marvelled Nevill's Dad as he scratched soil away from the length of a piece of yam.
Lifting it carefully from the dry earth he saw that it equalled the height of his primary school son . Yet his hopes were overfulfilled when the boy suddenly seemed to grow beyond his reach.
"Fi wi generation tink sey elementary edication a di bes. But see deh now it hav one new school dem call secondary," muttered his wife skeptically.
There it was. Built topside of Darliston, its straight concrete storeys, challenged the parents' pride in their self-sufficient small holding.
"Yuh know dat bwoy getting bigger dan bot' o' we," warned his mother. " What wid light an T V, de worl' mek we look ole fashun."
Suddenly, Nevill's ambitions leapt beyond the scope of rural sufficiency to the wider visions his parents feared. More than anything else, movies crowded his changing world, leading him on from the expectations that his parents found both honest and inevitable.
By this time Nevill was known as Guy. He was inspired by Kung Fu Fighting and could leap, spin and cut as fast as the screens showed.
" Huh," he would warn as he maintained a readiness stance with all the grace and control of his heroes. His ambition vaulted as high as he could jump. His vision caught the imagination of his teachers. His school principal introduced Guy to a migrant family down on the plain, almost to Sav, where he could peep into the world he wanted to grasp.
"Uhuh," was his Dad's comment, "now im gone to di white. Mi alus fear sey im would tun im back pon we."
"Shet up," his wife scorned, "Yuh nah kno sey fe yuh Daddy dida one whiteman."
Nevill's Dad bit his lip. There was no withstanding his wife's scorn when she chose to speak out. Not many in the community mentioned her heritage any more because it was hidden in the closets of the old colonial system but their children had all been born with satisfying rich and even skins and he knew why. His wife's family name was Afriyie and she could boast of pure, unadulterated Ashanti in her veins. The date of her grandfather's removal from Africa was etched in her mind, 1805. Though trafficked as a child, her frefather had made a break for freedom on the rugged Westmoreland hills. He had lived a warrior's life whilst other captured people laboured amongst the sugar canes in the valleys and on the coastal plains.
Lines of frugality and worry marked his wife's cheeks but her carriage was proud. Mr Stephenson could never forget the nervous thrill that had confronted him in courting days when he considered his future bride's unbroken heritage. Now his son seemed to query their freedom line by associating with whites.
The father of the English returning family had gone to join his Windrush Dad in Nottingham against his will. Once there, his jobs had frustrated him until he moved on to Scotland to train as a coach driver. When family ties brought him back to the East Midlands, he did not want to stay. Sensing his deep seated longing to go home, his friends pointed him to a young woman who had taught in those new secondary schools in Jamaica and who wanted to return.
Coy but determined, Mr P had approached the teacher saying, " I don't have no silver bullet to offer you but if you give me the chance I will put in some hard graft for us to settle in Westmoreland."
He secured her agreement so, together, they had bought the small plot of land outside Savanna-la-mar to which Neville was directed.
He found the young Mrs P, a restless and independent spirit, developing her home as a source of income instead of accepting the steady grind of Standard English teaching. Gradually, she was building up an alternative educational resource beginning with supplementary lessons in the evenings and vacation schools. She needed help to teach one of the summer schools. This is how Nevill came.
He did not journey daily from the hills as the time and cost was out of the question so he quickly became a member of the household. He got up early to move tables and benches for the schoolroom to be cleaned. He observed the baking of cookies to supplement the students' fees and led the family's two daughters to slip some of them out of sight an nibble with relish. The pranks went undetected. Mrs P was simply grateful that he was there to help in a moment of sudden sickness. In the End of Summer School concert, Nevill was to reveal his comic skills.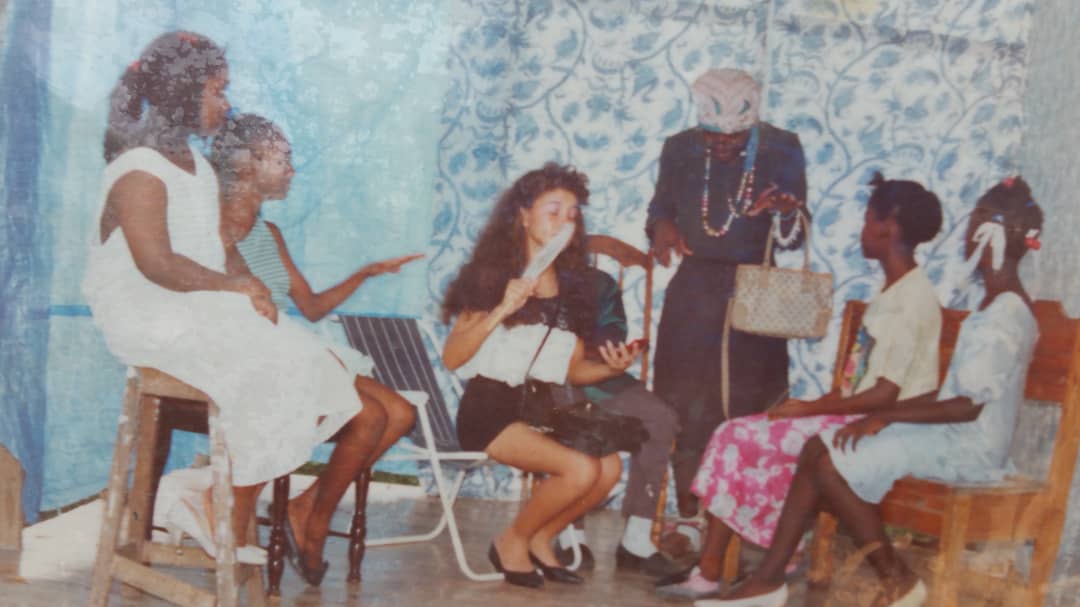 "Yuh a go dung fe di concert?" Nevill's mother asked his Dad when she heard of the event.
"What yuh mean homan?" Mr Stephenson turned his wife's usual scorn upon her. "Yuh don' kno mi ha yam to dig. An don' yuh tink bout it nida. Di yam haffi sell inna Darliston market."
At the concert, Nevill's "Granny" rocked the audience with laughter. She was built on the characters at the market who flanked his mother weekly.
It was not long before the ambitious Guy emerged from the loyal Nevill. He confided his ambition to go the Drama School and head for a career in acting. His teacher friend supported him and together they prepared the piece from "Othello" of Iago's speech, "Put money in your purse." He was to take this speech and his comic Granny to audition at the Jamaica School of Drama.
Nevill got in. He went off to live with his brother in downtown Kingston who had earlier exchanged rural subsistence for urban hustle.
"Yuh see, him gone far now," agreed his parents over a comforting shared mug of cocoa.
"A fe im langtime dream," asserted his mother, musing over dim evenings of kung fu practise when all she could hear of him was the "Huh-uh," of his exaggerated breathing.
Nevill became a slick showman very quickly. His physical control made him an apt pupil at the School of Dance, closely associated with the School of Drama on the same Campus. His vocal range made him the pride of his drama teachers and, for written back-up he still had the support of his teacher in Sav. The pragmatism learned on his parents' farm led him to opt for a two year teaching qualification whilst his creativity prompted a bid for life and work in the Bahamas. Excited fans of his dance performance offered him this chance.
Nevill taught in the Bahamas for some years gaining the recognition of pupils and teachers at the school where he worked and taking further qualifications with Sojourner-Douglas College.
Meanwhile, in Jamaica, a cool wind of change was blowing. The family in Sav was splitting up, challenged by complex issues in England and thinning strands of fidelity between the parents.
One Christmas, Nevill rushed to the UK to support his former mentor through this crisis.
"What im gone deh for?" his mother muttered through kissed teeth. "If im nah watch out im wi neba com back fram deh an wi lan up in a big factory wid no lan nearby."
"An how im a go eat yam den?" queried his Dad scuffing the dirt disconsolately.
"Ah, so-so rice an mackerel fi im ebry day," spat his wife in scorn.
Nevertheless, Nevill stayed some months, counselling Mrs P and nominating her his second mother. He kept her company and provided furniture for their home. He was intent upon staying. A well reputed drama school invited him to continue his studies and the jumping began through successive Home Office hoops. Amongst them was the demand to apply from the Bahamas. He left the U.K. and continued procedures as indicated but the last hoop was massive financial backative. Still strung out by the break up of her marriage and not yet in stable employment, his teacher friend could not assist. Nevill determinedly set his sights on Canada instead, proposing to return to England once he had gained citizenship there.
"Im gone too far to com back now," averred his birth mother.
"Im is a kung fu fighter an a dat im did want," consoled his Dad.
The next stage of his acting career was at film school in Vancouver where Bill, his principal, noted his unstinting hard work. Despite racist harassment from his classmates, Nevill kept his eyes on his life target: movie recognition. He already had experience of TV advertising. When he got work in a sensational movie, it was to run along the beach holding up a gigantic model of a shark's head. A few bit parts and more TV followed. Nevill's career gained momentum when he took part in several films and two television series:"Falling Skies" and "Forensic factor". At last he was picked by a Ghanaian producer for a significant break. As ever, Nevill did well. The result was encouragement to move to Ghana.
At this time, Nevill had been studying traditional Chinese medicine and leaving Canada would curtail this. By teaching and working as a paramedic he had augmented his acting income so he put together the results of his earnings and bought a piece of land in Ashanti territory, Ghana. He intended to fish farm there and then to expand as opportunities arose.
"Kofi what?" his mother barked.
"Bilal, Mom," soothed Dad. "Im a go back to di ancestor dem."
"An wha bout fi yuh white line o blood?" demanded his wife.
"Lady, it neba do noting fe mi. Res yuself. Yuh become a Stephenson trou mi. mek Guy become a Bilal if so im choose."
The transition to Ghana, denoted by Nevill's change of name to Kofi Bilal and inclining him to Islam brought out the farmer in him. His constant advice to his former teacher was that the only things you really have in life are your achievements and your faith. Applying this to life in Ghana, he established his fish farm, used acupuncture to help his neighbours with their health problems and, suspending travel plans, enrolled in an acting agency. Whilst awaiting his break, Kofi decorated his house in African emblems. Before too long he was called for a part in a movie.
Kofi was sitting on his veranda one day when a car drew up and an impressive person got out. Kofi was amazed to see local residents hastening to his home and demanding the visitor's autograph. He soon found he was entertaining the lead actor of the proposed film , "Agent Barcher" in which Kofi was to play the main antagonist. The two actors got on well and Kofi was assured that his long held dreams would soon come true as a result of following the trail of his ambition wherever it led.
"Dat deh bwoy nah want fi nuttin now," exhaled his dad as he snuggled for the last time beside his wife to sleep.
She, terse, wakeful and watchful as ever, crawled from the cooling bed and stuffed a yellowed crisp English birth paper into an envelope, wrote tremblingly, "This is you grandfather" on the back. Then she set it on one side to give to the post mistress after Mr Stephenson's funeral.
By the time her last brief sentence reached Ashanti Territory, Kofi's Mom was laid alongside his Dad on a Westmoreland hillside, the cycle of her beginning having turned again.