Pallavi Devulaplli - Regional Officer (West Norfolk)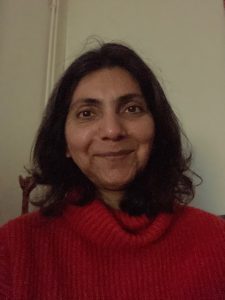 Pallavi (rhymes with Valerie) Devulapalli (De-vu-la-pa-li)
Currently working as an NHS GP in West Norfolk where I live with my family (husband and two teenage boys) in a small village, Shouldham where our garden borders a woodland.
Got involved in campaigning with an incinerator that was proposed to be built in King's Lynn; I was also active in the Transition Towns movement helping to establish the local Downham and Villages in Transition.
Active within the local Green party for the past 7 years or so, helping candidates with leafletting etc, became a party member 5y ago, active within the local party in the last two years.
Currently Membership Officer, West Norfolk Green Party, Parish Councillor, Shouldham, and Chair of Shouldham Community Orchard Group.
MEP candidate for the Eastern Region in 2019 European elections (we elected our first ever Green MEP) and Green MP candidate for SouthWest Norfolk in 2019 General elections, garnering 3.5% of the vote.
When I'm not being a mum, working in my various roles or thinking politics, I'm a member of our local XR, KLimate Concern and Nature Volunteer Network groups; I like the idea of gardening, baking, reading and watching films, but rarely get the time to indulge myself!
My pronouns are She/her