Navasha Wray - Education Officer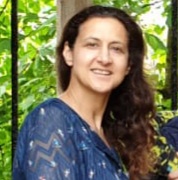 Navasha Wray has worked across communications industries throughout her career. She spent 10 years in the US in academic publishing, before returning to London and taking a position at the Royal Academy of Arts, where she has worked for 16 years.
She is committed to helping the campaign against Heathrow expansion and involving the diverse community of London in the Green Party's policies and campaigns.
She joined the Green Party in 2018 after being impressed with their clarity on Brexit and the environment.
Navasha's pronouns are She/Her.